Archive for May, 2007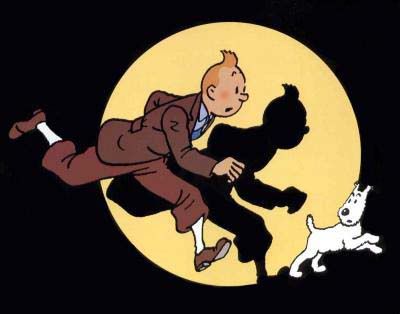 I was never the biggest fan of the comics but, with this team, I'm very excited for the movies.
Steven Spielberg and Peter Jackson are teaming to direct and produce three back-to-back features based on Georges Remi's beloved Belgian comic-strip hero Tintin for DreamWorks. Pics will be produced in full digital 3-D using performance capture technology.

The two filmmakers will each direct at least one of the movies; studio wouldn't say which director would helm the third. Kathleen Kennedy joins Spielberg and Jackson as a producer on the three films, which might be released through DreamWorks Animation.
Source: Variety
[via: attu]
Technorati Tags: Coming Up, Gossip, TinTin, Steven Spielberg, Peter Jackson, 3D Performance

1. The Story of the Late Chrysanthemums (1939)
Summary: In Tokyo in 1885, Kikunosuke Onoue, the adoptive son of an important actor, discovers that he is praised for his acting only because he is his father's heir, and that the troupe complains how bad he is behind his back. The only person to talk to him honestly about his acting is Otoku, the wet-nurse of his adoptive father's child. She is fired by the family, and Kikunosuke is forbidden to see her, because of the gossip a relationship with a servant would cause. Kikunosuke falls in love with Otoku, and leaves home to try to make a living on his own merits outside Tokyo.
Summary: Kibar Feyzo is a good and naive guy from a village in Turkey. He wants to marry a girl, but her father is against this marriage as long as Feyzo does not pay for his daughter, an old traditional deal in the past of Turkey…

3. Sunrise (1926)
Summary: Named the seventh-best film in the history of motion pictures in a 2002 critics' poll for the British Film Institute, Sunrise tells a fable of a married farmer, The Man (George O'Brien) who gives up dinner with The Wife (Janet Gaynor) to continue an affair with The Woman From The City
4. Balkan Spy (1984)
Summary:Ilija Cvorovic is called by the secret police to routinely answer questions about his neighbour, businessman who had returned from the West. After that talk, Cvorovic is convinced that his neighbour represents the greatest threat to national security and begins his own surveillance operation against the innocent man.

5. In the Heat of the Sun (1994)
Summary: The film is set in Beijing during the Cultural Revolution. It is told from the perspective of Monkey (this is supposed to be a young Jiang Wen), who is a teenage boy at the time. Monkey and his friends are free to roam the streets of Beijing day and night because the Cultural Revolution has caused their parents to be either busy or away. Most of the story happens during one summer, so the main characters are even more free because there is no school.
Link: Movie Recommendations
Technorati Tags: Helpful, Movies, Overlooked, Film, Underrated
---
---