Obsessed with Star Wars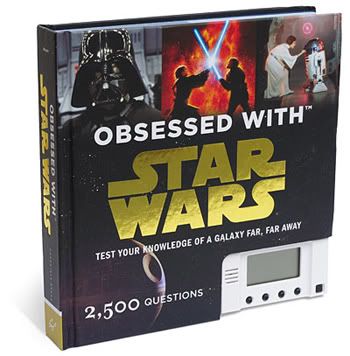 Obsessed with Star Wars Electronic Trivia is the book you've been looking for. Even the most die-hard Star Wars fans will find themselves challenged by this entertaining new approach to the details of the saga. And there's no turning to the back to see if your answer is right with this book – you're quizzed and guided by the little electronic module in the book (you can select questions by number or at random and the module will keep score). With 2,500 original questions covering little known facts, entertaining quotes, and tough trivia from all six episodes, Obsessed With Star Wars will have you dominating the galaxy in no time.
More info: Star Wars Trivia Book
King Kong Bank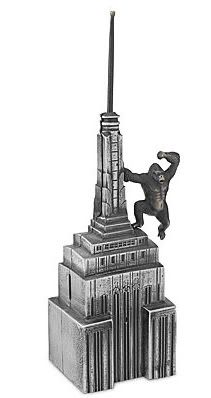 When it comes to money, you should never monkey (King Kong) around. Put your precious quarters, dimes, nickels and pennies in this miniature replica of the Empire State Building and rest assured that King Kong will ward off predators like little brothers or sneaky roommates. Beautifully made with keen attention to detail, this solid bank has a wonderful weight and antique finish, evoking another age.
More info: King Kong Piggy Bank
Lady & The Tramp Lighted Shadow Box
Lady and the Tramp…featuring a pedigreed Cocker Spaniel and a scruffy mongrel from the wrong side of the tracks. Definitely the type of mongrel that we try to keep our young daughters from dating! After run-ins with the dog keeper, daring escapes, and finally gaining the acceptance of her family, they go on to breed their own mutts…we wonder what her parents would have thought?
Each charming miniature scene is presented in a specially lit shadow box format made of resin, then exquisitely framed and protected by glass.
More info: Lady & The Tramp Lighted Shadow Box
Exorcist Bobblehead
Why can't I get enough of Exorcist Bobbleheads? It's as though some evil power within me is ordering me to buy them all. There's a whole collection.
More info: Exorcist Bobblehead
The Last Unicorn Hat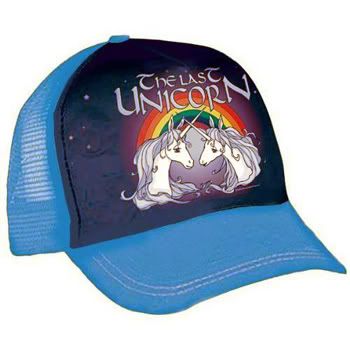 Shedding tears while watching The Last Unicorn is cool. And now you can show off with this very hip and fashionable hat. Wear it to a bar, and be astounded as babes swoon over your stylish sensitivity.
More info: The Last Unicorn Hat