Apologies for constantly featuring Star Wars stuff in these posts, but it's not my fault that it has some of the coolest merchandise.
The R2-D2 Aquarium
Modeled after the most well-known astromech droid in the galaxy, this R2-D2 holds a 1 3/4-gallon aquarium tank in his central compartment, ideal for a small freshwater family of goldfish, gouramis, or tetras.
The domed head rotates with any vocal command you issue and he utters his familiar "bleeps" from the Star Wars movies. His radar eye houses the eyepiece to a built-in periscope that provides an intimate view of the aquatic activity below, allowing you to watch your charges swim towards the food you've dropped in from the dome's removable feeding door. Includes filter and overhead LED tank lights that randomly morph between red, blue, and green (lights can be disabled). Includes a two-sided waterproofed cardboard insert depicting scene s from the movie as a background.
More info: The R2-D2 Aquarium
Star Wars Toaster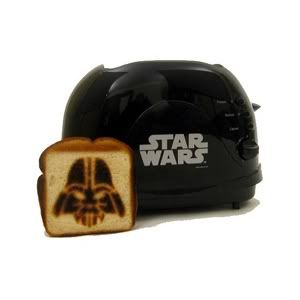 If there's something every Sith Lord knows how to do it's make a balanced breakfast. While the Jedi have to live off of Jawa juice and fried nerfsteak, the Dark Lord of the Sith prefers to have a reminder of his fiery Mustafar defeat at his breakfast table. Every morning he burns that moment into a slice of bread with the Darth Vader Toaster. This black, ominous kitchen appliance easily leaves the mark of Vader's helmet in every yummy piece of toast. Slather some Bantha butter on top, or make two pieces for an extra-Sithy BLT. Force power not required to operate toaster.
More info: Star Wars Toaster
[via: Foolish Gadgets]
Hans Guitar Solo Shirt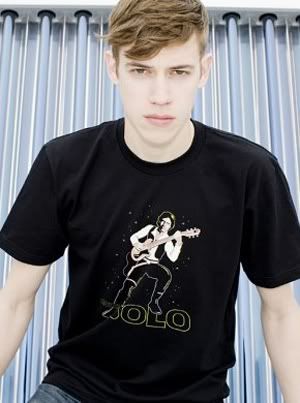 Rockin' out ain't like dusting crops, boy.by Go Ape Shirts!
More info: Hans Guitar Solo Shirt
Real looking Hulk Mask
Your little super hero can "turn green" when he straps on this super cool mask and "becomes" one of his favorite good guys! Press the mask's button for glowing green eyes just like the popular Hulk character. Hulk fury will greet everyone in this masks path complete with grit-mouthed grimace and straggly "hair." Adjustable straps give a comfortable fit and little imaginations can do the rest.
More info: Real looking Hulk Mask
Wizard Of Ozâ"¢ Emerald City Cookie Jar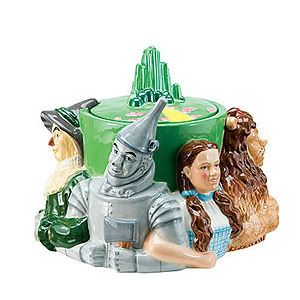 Often ranked among the ten best movies of all time, now treasure the 1939 film's magic in your own home. Ceramic cookie jar depicts the Emerald City surrounded by Dorothy, The Scarecrow, The Cowardly Lion and The Tin Man. With fine detailing and a history of the movie imprinted on the back, this limited edition of 2400 is a must for Oz fans.
More info: Wizard of Oz Cookie Jar