CinemaNow and DivX have teamed up to offer Terminator Salvation for free download, while supplies last.
The Digital Copy of the full film is compatible with PC, Mac, and any other device that is compatible with the free DivX media player.
How to get your hands on it? Just go to Cinema Now by using this LINK and enter the code TS201023. You'll have to live in the USA and sign up for a free CinemaNow account. You need to have the free DivX installed – get your free copy here.
– Only One Copy Can Be Redeemed Per Movie Now Account
– This is only for U.S. users.
– DivX purchased thousands of copies of the film but the offer is only good while supplies last — so redeem now if you want to watch the film.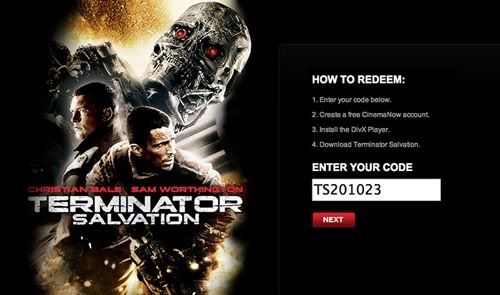 [via Mashable and Classic Fun]